Boiler Inspection in Lake Geneva, Wisconsin
To keep your heater up and running, it's important to have regular maintenance performed by professional technicians. Performing seasonal or annual maintenance not only ensures that your system will continue running smoothly for a longer amount of time, but it also means that you'll save money in the long run – on both your energy bill and repair or replacement costs.
Additionally, the warranty on furnaces usually only stands up over time on the condition that you have maintenance performed on the unit at regular intervals. Maintain your manufacturer's warranty by hiring Master Services for maintenance today!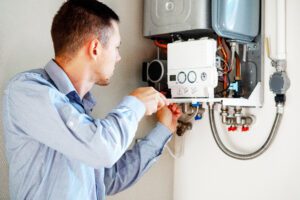 Below are some additional benefits to boiler and furnace maintenance:
Cut down on costly repairs
Stop blossoming problems in their tracks
Increase the lifespan of your unit
Warranted peace of mind
Keep the manufacturer's warranty in effect