Professional Air Conditioning Services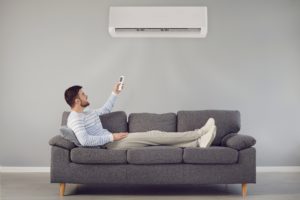 Master Services is one of the most experienced air conditioning contractors in Southeast Wisconsin and Northern Illinois. Our staff is continuously trained on the newest advancements in the field – and is equipped with the tools and parts to service any cooling system regardless of design. If you need service on a window unit, heat pump, ductless mini-split, or forced air system, our experienced, innovative team are here to keep you cool! From the latest modern units to your grandparent's attic fan, we have the skill and resources to service them all. Our trained comfort technicians can also help with leak repair, refrigerant recharge, and other essential cooling services.
We can help with all air conditioning services:
What to Expect from Air Conditioning Service
Are you questioning the integrity of your current air conditioning system and looking for replacement options? Whether the cause for concern comes from high energy bills, frequent repairs, slow and inefficient cooling, or simply old age, you can depend on Master Services to find the best solution for your needs. We can customize an efficient cooling system for your home and teach you how to maintain it for years to come. As you try to find a replacement air conditioner that suits both your budget and needs, we hope that you give us a call. Buying and installing a new air conditioner is an expensive and important investment. We promise to provide you with honest and effective options for repair or replacement. Our qualified, background-checked, and drug-tested technicians do not earn a commission; we operate on good old-fashioned service mentality.
Signs Your Air Conditioner Needs Replacing:
Old Age (10-15 years)
High Energy Bills
Frequent Repairs
Uneven Temperatures
When you need help with your cooling system, call Master Services at 262-248-2103. Your Satisfaction is 100% Guaranteed!