Professional AC Tune Up Services
If your AC unit is starting to make strange sounds this is a cause for concern. Before you even start to buy a new AC unit, you may want to look into an AC tune up first. Your AC unit may need no more than a little TLC to get it running well again. A certified professional can check the AC unit and examine closely its different parts to be able to diagnose the problem.
You should get about ten years of use out of an air conditioner as long as you have it serviced annually. If your AC unit is only a few years old, it can make more sense to have it inspected by a professional rather than assume that it needs to be replaced.
Why is an AC tune up necessary?
The main parts of the HVAC system are made up of ventilation, heating, a conditioning unit, and various other important parts. These specific parts both big and small tend to deteriorate over time and especially with extended usage. This is completely normal and can be expected over some years. Instead of waiting for something to break down, get your system checked beforehand so that you won't have to go without an air conditioner for weeks.
During the inspection they will:
search for any leaks or cracks
check the refrigerant levels
clear the space in and around the unit from dirt and debris
remedy any safety hazards
clean and straighten the coils and coil fins
clean or replace the air filter
recalibrate the thermostat if needed
Having your air conditioning unit tuned up from time to time will extend its useful life and prevent problems requiring service calls. Just like your vehicle, your AC unit requires regular maintenance in order to work effectively. If you don't get your device checked regularly, you could receive higher energy bills, notice different temperature levels at certain parts of the house and several more problems could occur.
You might not know that there's a problem with your air conditioning system until you turn it on for the first time when the temperatures start to climb at the beginning of the summer. To avoid this, you should have your AC system inspected in the springtime, at least a few weeks before you are going to need it. At best, being without AC is miserable and at worst, it can be deadly.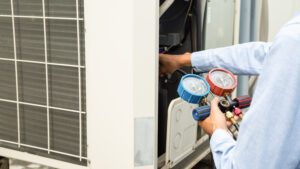 Do I need a tune-up or a total replacement?
In the event that you don't have the foggiest idea about the intricate details of cooling units, you may not perceive when it's arrived at its end or simply needs some attention. If you don't know whether or not your unit is salvageable, a professional can inspect it and give you an answer. If you are unsure whether your unit may need maintenance or replacement, the following list can help you determine the best course of action.
Thermostat isn't working
A malfunctioning thermostat is often the cause of an air conditioning problem. A professional will be able to inspect your wiring and recalibrate your thermostat before diagnosing the issue.
Inconsistent temperatures throughout home
Only an inspection by a professional will give you a definitive answer for your air conditioner's inability to cool your home adequately. Because of rising heat it is expected that an upper level of a home will have a hotter temperature than the ground level. Be that as it may, a high variation in temperatures between rooms can flag an issue with vents, ventilation work, or even air filters.
Bad smells or noises
Odd noises emitted by your AC unit are never a good sign and always warrant prompt attention. You might have a broken or loosened part, and that can cause even more damage unless a service call is made promptly. Sometimes it makes more financial sense to replace an air conditioner than to have it repaired. Mold growing in your ductwork as well as burnt wires can be a source of unpleasant odors.
It is natural to try and find the answers yourself by using Google and asking friends. Sometimes the best way to find both the problem and the solution is to call in a professional to do a full inspection. In many cases, it could simply need a small repair or even a good cleaning, nothing major. Cleaning or a repair is oftentimes all it takes to fix the problem.
Leaks
If there's a leakage coming from an AC device, it's bad news. AC repairs are usually expensive whether it is a water leak from the condenser or a coolant leakage from its lines. If your units are old and near the end of its life, it's probably more cost-effective to replace it instead of repair it.
High energy bills.
One of the biggest signs of an air conditioner that is overworking itself and is not working at its best is reflected in your energy bill. If your energy bill is higher than it usually is and there is no other explanation it usually means the air conditioner is the problem. If the unit hasn't been tuned up in a long time, or if the unit is still new, it's time to call a professional.
In case the unit is old or recently serviced, it's quite possible that it has gotten too old and requires replacement. An inspection that's thorough will help determine the problem for sure. If replacement is warranted, your technician can identify appropriate, energy-efficient models.